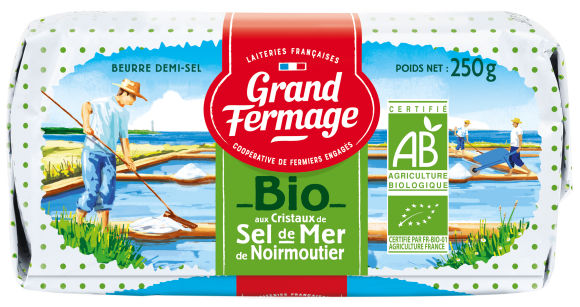 Organic Noirmoutier Sea Salt Butter 250g
250g
This churned organic butter with sea salt flakes is made from 100% organic French cream and salt crystals harvested by hand by master salt makers on the island of Noirmoutier.
It has everything you look for in a quality butter: a beautiful golden yellow colour, a slightly salty taste, and real grains of salt that melt on the tongue.
Produced close to our breeders...
In our Bellevigny factory in Vendée (85)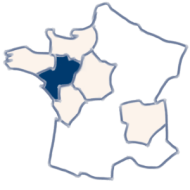 Ingredients
Pasteurised cream from organic farming, added salt 3% including 2% of  Noirmoutier sea salt crystals, cultures (including milk).

Nutritional values
Average nutritional values per 100g
| | |
| --- | --- |
| Energy | 3 020 kJ / 735 kcal |
| Fat | 80g |
| -of which saturates | 56g |
| Carbohydrates | 0,6g |
| -of which sugars | 0,6g |
| Proteins | 0,6g |
| Salt | 2,4g |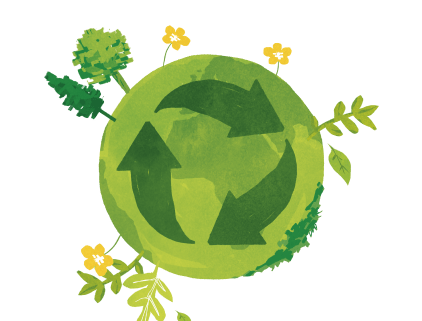 Think about sorting
Disposable paper packaging.
All you need to know about our Organic butter with sea salt crystals from Noirmoutier!
The organic label is used to identify products from organic farming.
This agriculture is framed by specifications at European level and controls the respect of the environment and animal well-being.
Its criteria include the non-use of synthetic chemicals, the non-use of GMOs, the recycling of organic matter, crop rotation and biological control.
Noirmoutier's organic butter with sea salt crystals has a light iodised taste.
It combines both the tenderness of the butter and the crunchiness of the crystals.
The crystals melt quickly on the tongue and add delicacy to your seafood platters or sweet and savoury recipes.
Enjoy our
recipes!
Running out of inspiration ? Let yourself be tempted by our delicious recipes based on butter or cheese. Depending on the number of your guests and the time you have to cook, we suggest you discover our tasty sweet and savoury recipes!
Discover our recipes
Discover our recipes