Our french origin
Quality from the roots up!
Our farmers and farmlands
For generations, our farmers and dairies have been rooted in their local regions all across France. From the Grand Ouest to the Rhône-Alpes region, they work passionately day on day, contributing to the local economy, supporting businesses and creating jobs.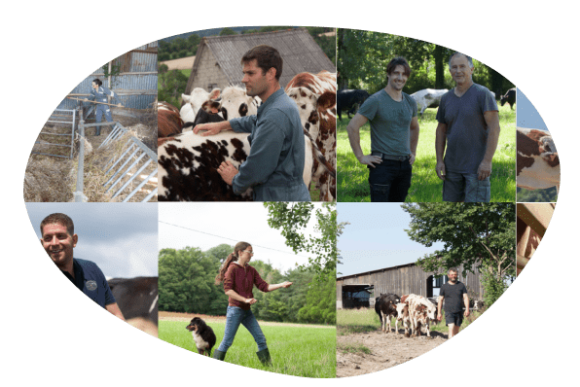 NORMANDY
Located in northwestern France, bordered by the Channel on one side and Belgium on another, the region of Normandy is France's second-biggest dairy basin, home to some 537,000 dairy cows.
As locals will assure you, the grass in Normandy really is greener than elsewhere! Indeed, the region enjoys a wet coastal climate that makes it a perfect habitat for almost any species of grass. In addition to mild temperatures in both summer and winter, this beautiful region is known for its wide pasturelands, perfectly suited to dairy farming, and the Normandy prairies with their rich biodiversity. Speaking of which, did you know that there are 250 species of flora and fauna nestling in every square metre of land on a Normandy dairy farm? And that's not even counting the thousands of living things (such as earthworms) that flourish under the surface!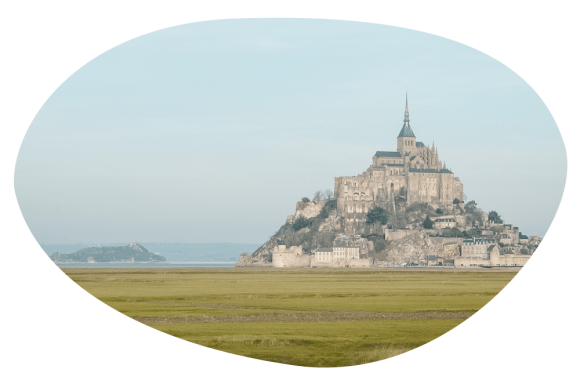 BRITTANY
Sitting "just across the waves" from the coast of Great Britain, Brittany is home to the westernmost point of mainland France, bordered by the Channel and the Atlantic ocean. It is France's biggest dairy region, producing a staggering 5.4 billion litres of milk every year!
Famed for its agricultural excellence thanks to a mild climate, high rainfall, and fertile, verdant farmlands, it makes perfect sense that over the years Brittany has become the biggest dairy-producing region in France.
The region is also renowned for its culinary specialities and dairy products. Salted butter may now be world famous, but Brittany is the place it calls home!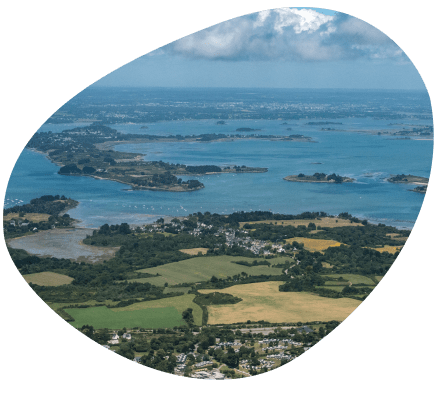 CENTRAL FRANCE
Intersected from east to west by the Loire river, the Centre – Val de Loire region is known for its wide diversity of agricultural output, landscapes and farmlands.
An unusual fact, to say the least, about the Centre – Val de Loire region is that is has two highly distinct climates:
In the east, a continental climate presides, with cold winters and toasty summers.
In the west it's a different story: the influence of the ocean reigns supreme, with mild winters and gentle summers.
This duality makes the Centre – Val de Loire region a truly exceptional place, both for our Grand Fermage farmers and for the health and wellbeing of their cows.
In addition, it is also the biggest cereal-producing region not just in France, but in Europe as a whole. Judge for yourself: 19,000 crop farms and 8.9 million tonnes of cereals are harvested every year, of which a small portion even comes from polycultures grown by Grand Fermage farmers.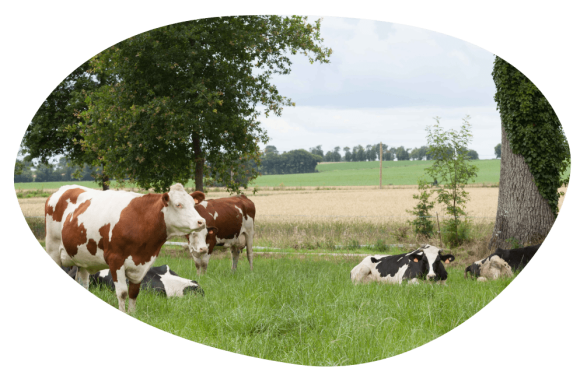 POITOU-CHARENTES
Nestled between land and sea, the region of Poitou-Charentes has inherited a partially sunny oceanic climate, with 2,000 hours of sunshine per year. That said, our cows aren't huge fans of the heat, so you'll be more likely to find them relaxing in the shade of a tree than sunbathing!
While visitors are often drawn to our beautiful region for the stunning diversity of landscapes on offer (including forests, woods, marshes and vineyards), the thing we are most proud of is, of course, the Protected Designation of Origin status awarded to our Poitou-Charentes butter, available in unsalted or lightly salted versions. Today, just 1,500 farms have the right to supply the milk that goes in to making this culinary treasure and local speciality. After all, you don't get PDO status for nothing! First of all, the milk must be produced within a 50km radius of the dairy, before being pasteurised and creamed within 12 hours of its collection. Then there is the mandatory, 18-hour organic maturation period that allows the aromas to develop before the butter is churned, resulting in a truly exceptional butter with a uniquely nutty flavour.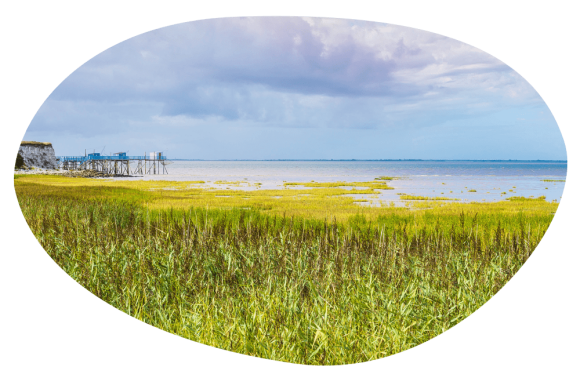 PAYS DE LA LOIRE
Located in western France and bordered by the Bay of Biscay, the Pays de la Loire (literally "Loire country") is a champion of the practice of agricultural diversity, producing milk, fruit, vegetables, and wines – so there really is something for everyone!
The region of Pays de la Loire is remarkable for its rich diversity of landscapes and habitats: between waterways and hillsides, fertile marshes and evergreen grasslands where Grand Fermage cows can graze almost year-round. Thanks to its oceanic climate and the quality of the soil, the lands of the Loire provide the ideal conditions for the development of agriculture, dairy farming and arboriculture. It's the perfect landscape for our Grand Fermage farmers to engage in the practice of polyculture.
The isle of Noirmoutier off the coast of France has been famous since your great-great-great-great grandfather's day: the island is renowned for producing the salt used to make Grand Fermage flaky sea salt butter!
However, the island is also famous for its salt farmers, who've been keeping their ancestral methods and traditions alive for over 1000 years.
Today, the iconic salt marshes cover a third of the island, shaped by humankind over the course of generations.
So how do you make the perfect salt?
First, you'll need a breath of wind and a pinch of sunshine. Then the sea water can get to work: as it flows through the network of channels and pools over the course of two days, the water evaporates slowly, leaving the highly concentrated salt crystals at the mercy of the sun's rays.
Once dried, the delicious crystals are gathered up by hand, and are never subjected to any processing. All that's left is for you to enjoy them!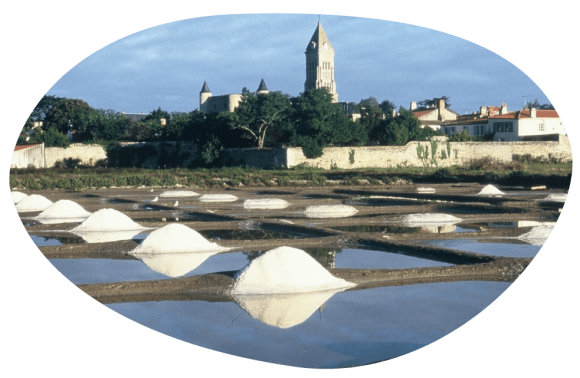 RHÔNE-ALPES
Located in south-east France near the borders of Italy and Switzerland, the mountainous region of Rhone-Alpes produces an average of 2.5 billion litres of milk per year.
The region has a proud history of dairy production, with 80% of its lands located in the mountains. From Vercors to the Alps, the region overlooks majestic valleys, crowned at a height of 4,809 metres (15,778 feet) by the famous peak of Mont Blanc. The region is home to rich biodiversity, with over 11,644 beehives. Conservation of these tiny pollinators is crucial to plant reproduction, but the fruits of their labour aren't only found on branches: each year, the region produces 1852 tonnes of honey, representing 14% of all honey produced in France. This delicious honey will delight your taste buds (best enjoyed, of course, on a piece of bread spread with Grand Fermage butter!)
The region is also home to the area of Dauphiné, which the only place where the celebrated soft-rind cheese St Marcellin may produced, as the cheese enjoys Protected Geographical Indication (PGI) status. Three little letters that guarantee a cheese of exceptional quality!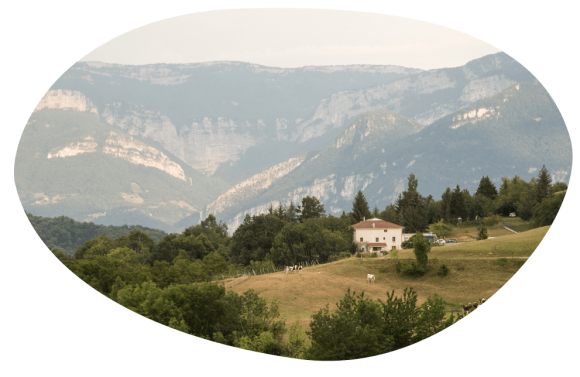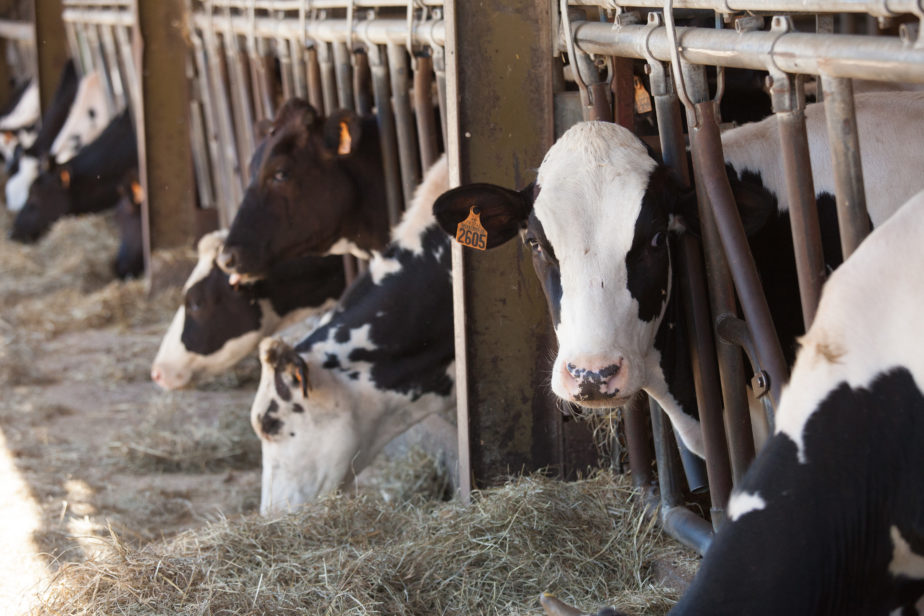 Made in France
As you'll have guessed, all Grand Fermage products are made in France using 100% French milk. This milk is collected from our dairy farms all over France, and brought to nearby factories to be processed. At Grand Fermage, quality is our top priority:  for us, this means remaining close to our regions and their vast wealth of landscapes, their variety, and above all the everyday wellbeing of our farmers and their herds. It is only through this commitment that Grand Fermage can be active all over the world and remain true to the needs of its consumers.
Cooperative spirit from generation to generation - a truly French model!
The concept of a cooperative is a redistributive model that lays the groundwork for the future. In other words, its purpose is not to reward shareholders, but to safeguard the livelihoods of all its members. By redistributing profits fairly, each producer can rest assured they'll be handing down their farming operations to the next generation in ideal conditions. Joining a cooperative  is a form of tradition.
French farming is, above all, about ancestral savoir-faire passed down from generation to generation, but also from the farmer to their successor. Handing down a farm is about much more than passing on your land: it's about passing on your heritage.
It's less about the economic or material assets (lands, farming equipment, etc.), and more about the human elements that come with it. Here we're talking about the values, the rituals and the highly specific expertise that the "head of the family", often the father, will pass down to his heir, who is quite often the son, like a family tradition.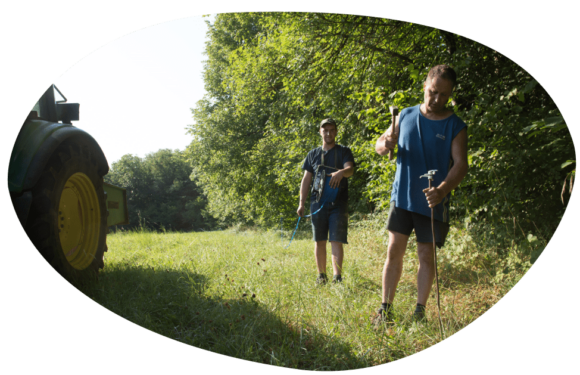 To go further ...