Ingredients
For the pastry
500g wheat flour, T45

10g fine salt

50g softened butter

25cl water

300g Tourage Grand Fermage butter 82%
For the flaky pastry
¼ of the flaky pastry dough

1 egg for the egg wash

For the mousse
1 well ripened avocado

30 cl whipped liquid crème fraîche Grand Fermage

The juice of half a lime

1 tbsp. chopped chives

1 tbsp. chopped chervil

Salt

1 pinch powdered Espelette chilli pepper

For the garnish
Young salad leaves

Pansy flowers, Thai chive flowers or other

Bunches of redcurrants

Sliced red radish

Mini-cucumbers cut into ribbons

Pumpkin seeds
And don't forget to grade the recipe:
Preparation
Method for the pastry
Place the flour, salt and softened butter in the mixer bowl.

Start to knead it slowly while gradually adding the water. Knead at speed 2 and 3 for a few minutes without giving too much body to the pastry.

Cover and set aside in the fridge for around 20 minutes.
Method for the folding
Take the butter out of the fridge. It should be of the same consistency as the pastry. If you think it is too hard, tap it with the rolling pin to soften it.
Roll out the pastry to form a rectangle twice the size of the butter.
Place the butter at one of the edges then fold the pastry over it.
Press down well then perform 2 single turns, always keeping the fold to the right. Set aside in a cool place for 20 mins.
Repeat the 4 following turns twice and ensure that you adhere to the resting times in the fridge.
Method for the vegetable pastry and its garnish
Roll out the pastry dough quarter to form a 35x25cm sheet with a thickness of around 2 to 3 mm.
Place it on a baking tray lined with greaseproof paper. Apply the egg wash and let it sit in the fridge for around 30 minutes.

Preheat the oven to 200°C.
Apply a 2nd coat of egg wash, sprinkle on the black sesame seeds then bake for 15 to 20 mins. Half-way through baking, stop the pastry rising by placing a sheet of greaseproof paper on top and covering this with a baking tray, then finish baking.
Take the pastry out of the oven, place it on a rack and leave to cool.
Then mark out 16 rectangles of 17x3cm with a dough-cutter.
Remove the avocado stone and retrieve the flesh. Add salt and stir in the lime juice.
Add the herbs, the pinch of Espelette chilli pepper and gently stir in the whipped cream. Fill a pastry bag with this mixture.
Place a dab of mousse on each pastry, then add all the ingredients for the garnish mentioned above, following your inspiration.
Serve drizzled with olive oil and a pinch of fleur de sel.
And don't forget to grade the recipe: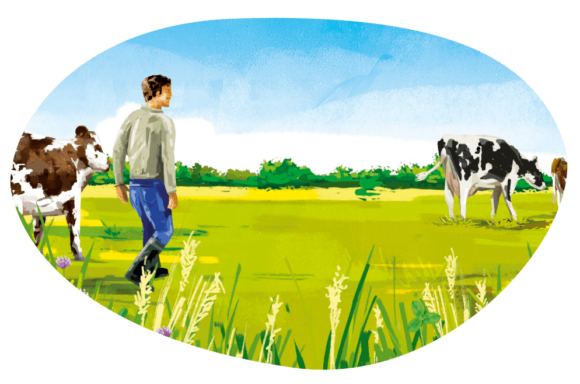 Gourmet tips
To vary the taste, you can add mango, grenadine, shrimp or salmon… You can also make pastries to serve as an aperitif by making them smaller.
Enjoy our
recipes!
Running out of inspiration ? Let yourself be tempted by our delicious recipes based on butter or cheese. Depending on the number of your guests and the time you have to cook, we suggest you discover our tasty sweet and savoury recipes!
Discover our recipes
Discover our recipes