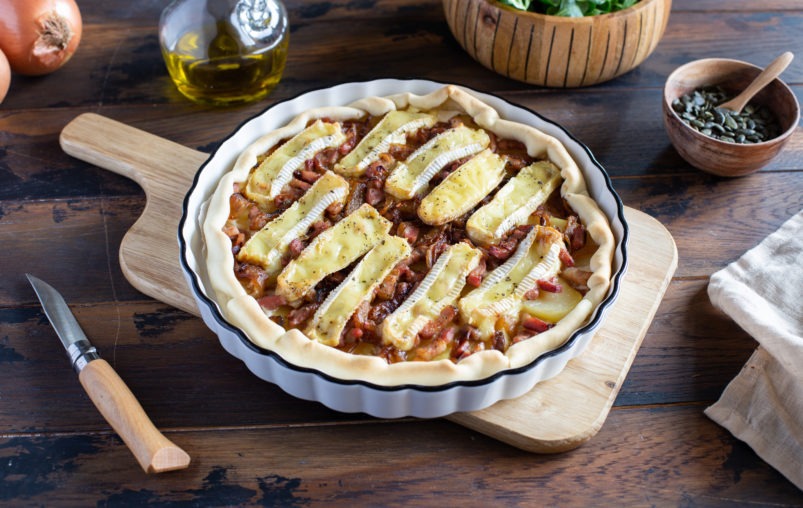 Guests

4 people

Preparation

20 minutes

Cooking

45 minutes

Difficulty

Medium
To make this recipe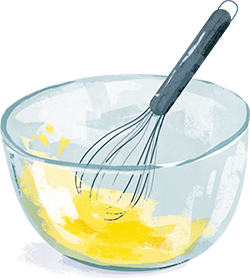 Ingredients
150g Grand Fermage Crémeux du Poitou cheese

Shortcrust pastry

150g bacon lardons

3 tbsp. double cream

2 potatoes

1 onion

Pinch of dried oregano

1 tsp. olive oil

Salt and pepper
And don't forget to grade the recipe:
Preparation
Peel, rinse and cook the potatoes: either steam them or boil them in a pan of water of 20 minutes.
Check the potatoes are cooked by sticking a knife into their centre. It should sink in easily but the potatoes should not be overcooked either.
Peel and slice the onion.
In a hot pan, fry the onion with the olive oil for about 5 minutes, stirring regularly.
Then add the bacon lardons, salt and pepper, and continue cooking until the lardons are cooked through and golden, and the onions are translucent.
Preheat the oven to 180°C.
Line the base of a tart tin with the shortcrust pastry. Prick the bottom in several places with a fork and spread the cream over the entire surface.
Cut the cooked potatoes into slices and distribute them over the cream. Then add the onion and bacon lardon mixture.
Cut the Grand Fermage Crémeux du Poitou cheese into slices and distribute them on top of the tart. Then sprinkle with a little oregano to finish.
Bake for around 35 minutes. And it's ready!
And don't forget to grade the recipe:
Enjoy our
recipes!
Running out of inspiration ? Let yourself be tempted by our delicious recipes based on butter or cheese. Depending on the number of your guests and the time you have to cook, we suggest you discover our tasty sweet and savoury recipes!
Discover our recipes
Discover our recipes