Ingredients
Carrot cake
320 g freshly grated carrots

250 g flour

200 ml rapeseed oil

150 g brown sugar

110 g walnuts

3 eggs

1 orange

2 tsp. of baking powder

2 tsp. bicarbonate of soda

1 tsp. cinnamon

1 tsp. vanilla extract
Mascarpone cream
150 g Grand Fermage thick crème fraîche 30% Fat

100 g mascarpone

40 g granulated sugar

zest of 1/2 orange

1 vanilla pod

And don't forget to grade the recipe:
Preparation
Carrot cake
Preheat the oven to 180°C.
Chop the walnuts with a cutter.
Zest and juice the orange.
Whisk the eggs together with the oil and brown sugar.
Add the orange juice and vanilla extract.
Combine the flour with the baking powder, cinnamon, bicarbonate of soda and the orange zest.
Gradually add the dry ingredients to the initial mixture.
Then add the grated carrot and the chopped walnuts.
Carefully mix everything together.
Line a 20x20cm square tin with greaseproof paper.
Pour the mixture into the mould and bake for 50 mins.
Once cooked, allow the cake to cool completely.
Mascarpone cream
Split open the vanilla pod and remove the seeds.
Whisk the mascarpone together with the cream and add the sugar, orange zest and vanilla.
Mix together before setting aside in a cool place.
Assembling the carrot cake
Cut the carrot cake into three layers using a serrated knife.
Spread a layer of mascarpone cream onto the first layer of the cake.
Top with the second layer and repeat the process.
Spread the rest of the mascarpone cream on top of the final layer and smooth it out.
Set aside in a cool place for at least an hour.
Cut the carrot cake into 16 pieces.
And don't forget to grade the recipe: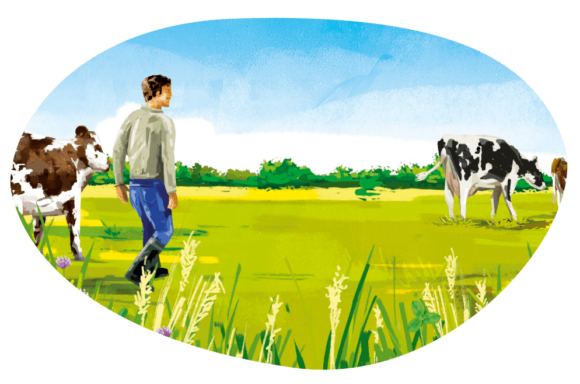 Gourmet tips
Decorate with chopped candied orange peel and finely chopped walnuts.
Enjoy our
recipes!
Running out of inspiration ? Let yourself be tempted by our delicious recipes based on butter or cheese. Depending on the number of your guests and the time you have to cook, we suggest you discover our tasty sweet and savoury recipes!
Discover our recipes
Discover our recipes