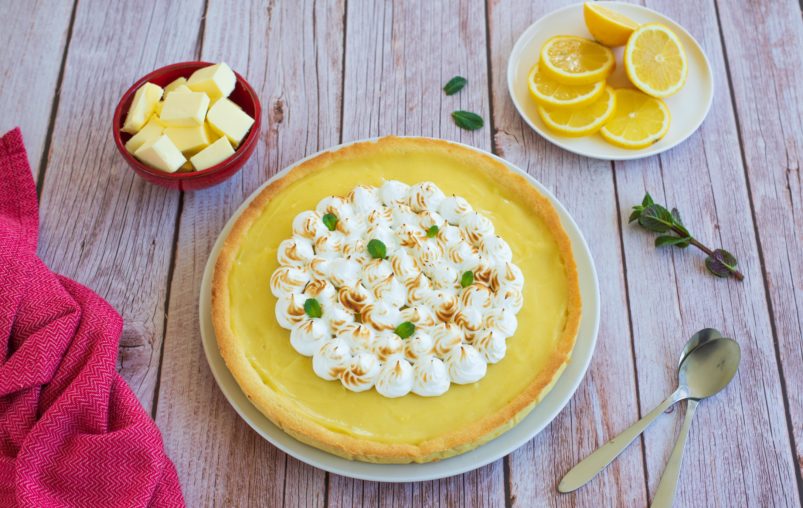 Guests

8 people

Preparation

120 minutes

Cooking

18 minutes

Difficulty

Medium
To make this recipe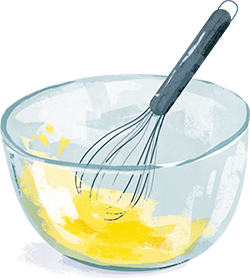 Ingredients
For the shortcrust pastry
150g unsalted Grand Fermage butter
250g flour
50 g sugar
50g icing sugar
1 egg
Pinch of salt
For the lemon cream
75g unsalted PDO Charentes-Poitou Grand Fermage pastry butter
150ml organic lemon juice
zest of 1 organic lemon
125g sugar
3 eggs
1 tbsp. cornflour
Meringue
2 egg whites
70g sugar
And don't forget to grade the recipe:
Preparation
For the shortcrust pastry
To make the shortcrust pastry, beat the egg with the sugars and salt.
Add the flour and knead with your fingertips
Cut the softened butter into cubes and add to the dough, then quickly knead again.
Form the dough into a ball. Cover with film and set aside in a cool place for at least an hour.
For the lemon cream
Use this time to make the lemon cream. Zest a lemon,
then bring the lemon juice and zest to the boil in a pot.
Beat the eggs with the sugar and cornflour.
Add in the lemon juice gradually, whisking continuously.
Place the mixture over a medium heat and allow to thick until it forms a cream.
Allow to cool slightly then add in the cubes of softened butter, whisking thoroughly to combine. Set aside.
To make the tart
Roll out the pastry and lay it in a tart pan.
Top with pie weights and cook for 18 minutes at 180°.
Once cooled, fill with the lemon cream and store in the fridge.
For the meringue
To make the meringue, beat the egg whites until they are almost forming stiff peaks, then add in the sugar and beat for a few more seconds.
Pipe the meringue mixture over the top of the tart and place under the grill for 1 minute, or cook with a blowtorch.
And don't forget to grade the recipe:
Enjoy our
recipes!
Running out of inspiration ? Let yourself be tempted by our delicious recipes based on butter or cheese. Depending on the number of your guests and the time you have to cook, we suggest you discover our tasty sweet and savoury recipes!
Discover our recipes
Discover our recipes