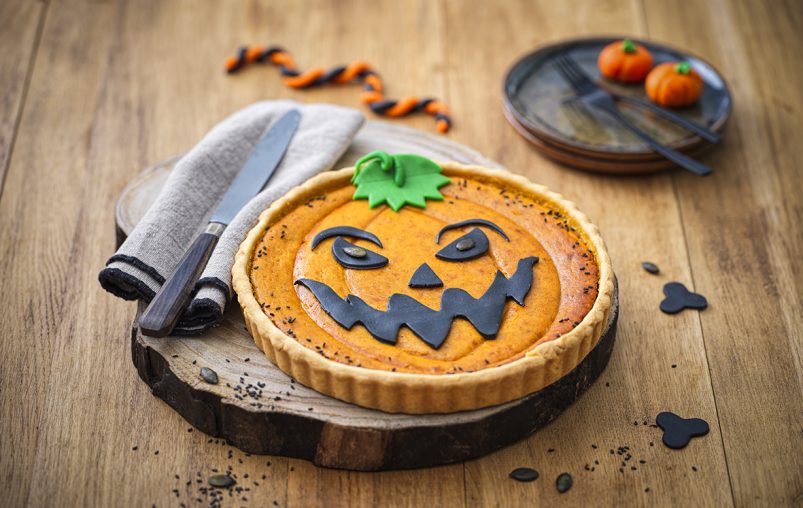 Guests

6 people

Preparation

20 minutes

Cooking

60 minutes

Difficulty

Easy
To make this recipe
Ingredients
For the shortcrust pastry
100g softened unsalted Grand Fermage butter
200g flour
40g water
1 egg yolk
Pinch of salt
For the pie filling
500g of pumpkin
120g caster sugar
50g ground hazelnuts
25cl single cream
20g unsalted Grand Fermage butter
2 eggs
1 tsp. cinnamon
1 tsp. allspice
1 tsp. grated fresh ginger
For the decoration
80g sugar paste
Black food colouring
Green food colouring
And don't forget to grade the recipe:
Preparation
For the shortcrust pastry
Preheat the oven to 180°C.
Place all the ingredients in the stand mixer and knead quickly.
Roll out the pastry and line your pie tin with it.
Prick your pie crust with a fork and blind bake it for 10 minutes.
For the pie filling
Preheat the oven to 200°C. Cut the pumpkin into small cubes.
Place it in a pot with a little water and the Grand Fermage unsalted butter. Cover and cook for 25 minutes.
Blend or mash with a fork and leave to cool for around 20 minutes.
Add the sugar, ground hazelnuts, single cream, eggs, and spices.
Whisk the mixture together and pour it onto the pie crust.
Bake for 25 minutes.
After removing from the oven, mimic the pumpkin's grooves by marking the pie with a pastry ring.
For the decoration
Colour 50g of the sugar paste black and the rest green.
Roll out the two pieces quite thinly and cut out 2 eyes (with eyebrows), a nose, and a big smile in the black sugar paste.
Make the pumpkin's stalk out of the green sugar paste
Decorate the cooled pie and serve!
And don't forget to grade the recipe:
Enjoy our
recipes!
Running out of inspiration ? Let yourself be tempted by our delicious recipes based on butter or cheese. Depending on the number of your guests and the time you have to cook, we suggest you discover our tasty sweet and savoury recipes!
Discover our recipes
Discover our recipes