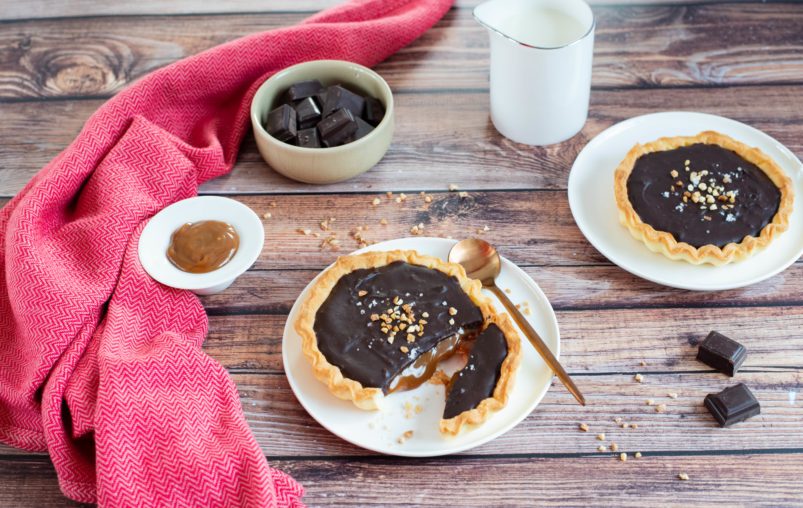 Guests

4 people

Preparation

120 minutes

Cooking

25 minutes

Difficulty

Medium
To make this recipe
Ingredients
For the dough
125g unsalted Grand Fermage butter
250g flour
80ml water
1 egg yolk
Teaspoon sugar
Pinch of salt
For the salted butter caramel
100g Noirmoutier sea salt butter
250g sugar
150ml heavy cream
For the chocolate ganache
30g unsalted Grand Fermage butter
200g dark chocolate
150ml single cream
And don't forget to grade the recipe:
Preparation
For the tart shells
Start by making the dough: mix together the butter, flour, salt and sugar.
Then add in the egg yolk, and gradually pour in the water. Form the dough into a ball.
Roll it out on a floured work surface and cut out little circles to fit into your tart molds, which should be greased and floured.
Blind-bake the tarts (spreading pie weights on their bases) for 18 minutes at 180°C.
Prepare the caramel by heating the sugar in a pot over low heat, along with two tablespoons of water. Wait until it has turned a deep golden colour before removing from the heat.
6. Off the heat, gently add in the cream and whisk to combine.
Add in the semi-salted butter and whisk again until you have a beautiful glossy caramel.
Pour into the pre-baked tart shells and place in the fridge for 30 minutes so the caramel can set.
For the ganache
Use this time to make the ganache: heat the cream and pour it over the chocolate (cut up into chunks).
Stir gently with a spatula and add in the butter.
Once the mixture is nice and smooth, pour it over the caramel, smooth it out and return to the fridge for one more hour.
And don't forget to grade the recipe:
Enjoy our
recipes!
Running out of inspiration ? Let yourself be tempted by our delicious recipes based on butter or cheese. Depending on the number of your guests and the time you have to cook, we suggest you discover our tasty sweet and savoury recipes!
Discover our recipes
Discover our recipes