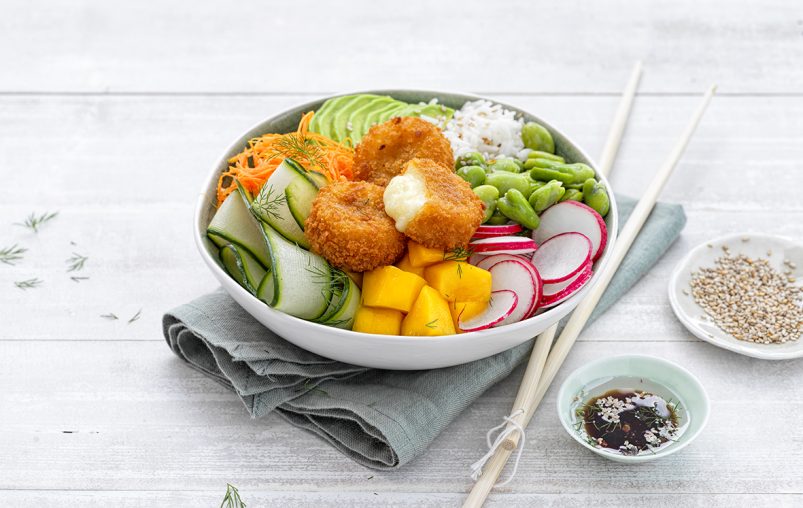 Guests

4 people

Preparation

20 minutes

Cooking

18 minutes

Difficulty

Easy
To make this recipe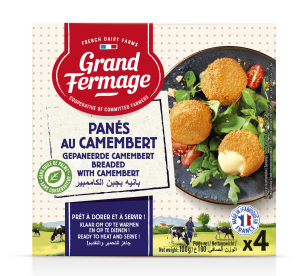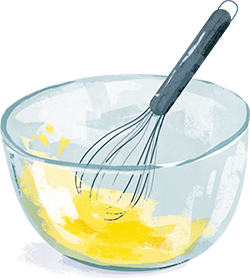 Ingredients
3 packs of Grand Fermage Breaded camembert bites
150g shelled fava beans
150g rice
2 carrots
2 avocados
1 small cucumber
1 mango
1/2 bunch of radishes
2 pinches of suger
50ml olive oil
30ml soy sauce
Sesame seeds
Dill
And don't forget to grade the recipe:
Preparation
Use a peller to cut the cucumber into fine slivers.
Grate the carrots, slice the avocados, cut the mango into cubes and slice the radishes with a mandolin.
Steal the rice for ten minutes ahead of times, then season with a dash of rice vinegar mixed with pinch of sugar.
Cook the fava beans in boiling water for 5 minutes, then drain.
Brown the breaded camembert pieces in a frying pan for 8 minutes.
Mix the olive oil and soy sauce, then add in a pinch of sugar and the sesame seeds.
Arrange the ingredients evenly in the bowls, setting the breaded camembert pieces on top.
Garnish with a few sprigs of dill and sprinkle with sesame seeds, then serve with the sauce.
And don't forget to grade the recipe:
Enjoy our
recipes!
Running out of inspiration ? Let yourself be tempted by our delicious recipes based on butter or cheese. Depending on the number of your guests and the time you have to cook, we suggest you discover our tasty sweet and savoury recipes!
Discover our recipes
Discover our recipes