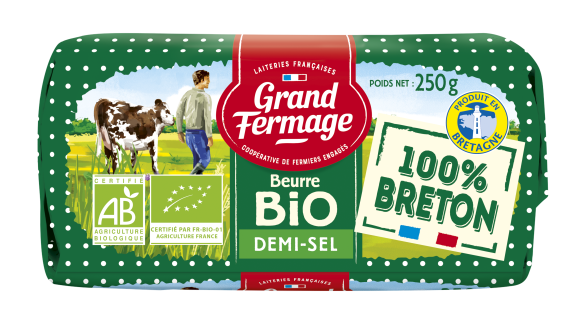 Salted organic moulded butter 250g
250g
Organic farming is a form of agriculture that respects the ecological balance of the soil and animal well-being. Moulded butter from an organic farming.
This half-salted whole butter offers a tender texture to those who savour it. It is simply composed of 100% organic and 100% French milk, cultures and salt (2%)!
Produced close to our breeders...
In our Bellevigny factory in Vendée (85) and Cesson-Sévigné in Ille-et-Vilaine (35)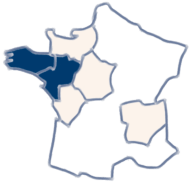 Ingredients
Organic butter , salt (2%).

Nutritional values
Average nutritional values per 100g
| | |
| --- | --- |
| Energy | 2 984 kJ / 726 kcal |
| Fat | 80g |
| -of which saturates | 55g |
| Carbohydrates | 0,7g |
| -of which sugars | 0,7g |
| Proteins | 0,7g |
| Salt | 2g |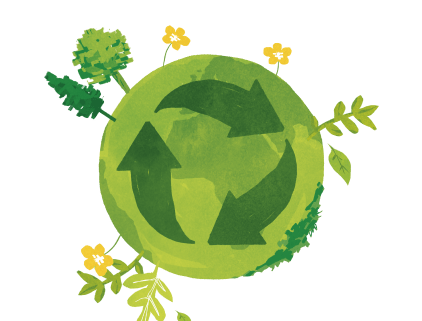 Think about sorting
Diposable paper packaging.
All about our salted organic moulded butter!
The organic Grand Fermage breeders are spread throughout the west of France.
They are mainly located in the following territories:
Normandy
Brittany
Poitou-Charentes
Pays de la Loire
Centre
From organic faming, the salted organic butter is naturally tender.
It is ideal to accompagny a vegetable purée or to make delicious baked apples.
Butter is really the star ingredient of any cookbook! Sauces, cakes… It can be found in numerous recipes.
To make sure everyone's taste is catered for, it comes in three broad categories:
You will of course have noticed that the difference between unsalted butter and salted butter is the salt content.
Enjoy our
recipes!
Running out of inspiration ? Let yourself be tempted by our delicious recipes based on butter or cheese. Depending on the number of your guests and the time you have to cook, we suggest you discover our tasty sweet and savoury recipes!
Discover our recipes
Discover our recipes