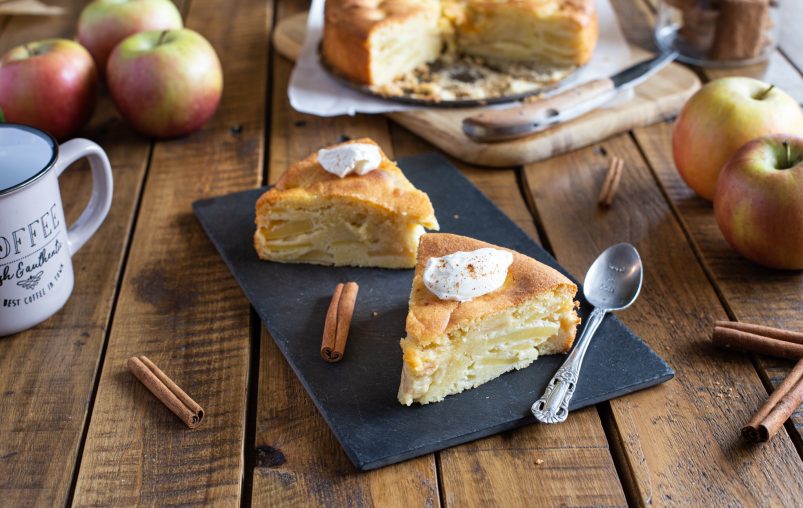 Guests

4 people

Preparation

30 minutes

Cooking

45 minutes

Difficulty

Medium
Ingredients
125g unsalted Grand Fermage butter

80 ml fresh whipping cream

2 or 3 apples such as Belle de Boskoop (depending on their size)

juice of half a lemon

150 g flour

125g sugar

3 whole eggs

½ sachet baking powder

1 tea spoon powdered cinnamon
And don't forget to grade the recipe:
Preparation
Preheat the oven to 200°C.
Butter and then line with flour the dish you're using.
Peel the apples, cut them into quarters, remove the core and seeds then slice them into similar sized pieces.
Sprinkle them with lemon juice to avoid oxidization. Set aside.
In a large bowl, briskly whisk together the whole eggs and sugar until the mixture begins to 'puff up'.

Using a spatula, blend together the melted butter, the flour and yeast, then the crème fraîche.

Gently add the apples to the mixture without disturbing it too much.

Pour the mixture into the dish, cook for 10 minutes at 200° then lower to heat to 160° and cook for a further 25 minutes. Check the cooking with the point of a knife.
Remove the cake from the oven and leave to cool before removing from the dish.
Serve slices accompanied with cream gently sprinkled with cinnamon!
And don't forget to grade the recipe:
Enjoy our
recipes!
Running out of inspiration ? Let yourself be tempted by our delicious recipes based on butter or cheese. Depending on the number of your guests and the time you have to cook, we suggest you discover our tasty sweet and savoury recipes!
Discover our recipes
Discover our recipes