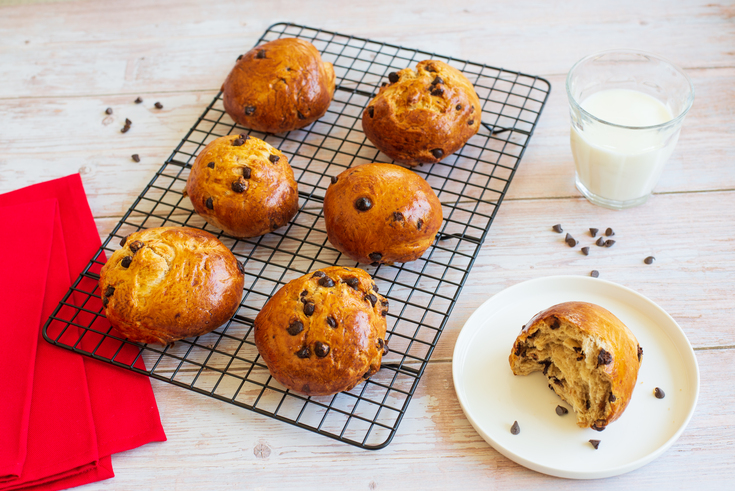 Guests

8 people

Preparation

180 minutes

Cooking

25 minutes

Difficulty

Medium
To make this recipe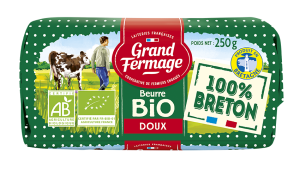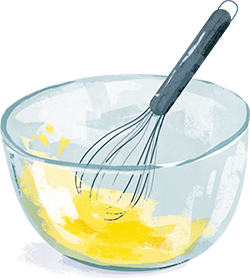 Ingredients
60g unsalted organic Grand Fermage butter
500g T45 flour
50g sugar
1 sachet of vanilla sugar
1/2 tsp fine salt
1 packet of baker's yeast
1 beaten egg + 1 egg yolk
125ml milk + an extra 2 tbsp
125ml water
100g dark chocolate chips
And don't forget to grade the recipe:
Preparation
In a stand mixer bowl, combine the flour, sugar, vanilla sugar, and salt.
Add the dry yeast and slowly begin mixing.
Add the melted unsalted butter, beaten egg, and chocolate chips.
Lastly, gradually add the water and milk.
Knead the dough for 7 minutes until smooth and elastic—but not sticky—form a ball and cover the bowl with a damp cloth.
Leave the dough to prove for at least 2 hours in a warm place.
Knock back the dough and then make 8 evenly sized balls of dough.
Arrange them on a baking sheet lined with baking paper and leave to prove again for 30 minutes.
Brush the surface of the dough with an egg/milk mixture (1 egg yolk and 2 tbsp. milk)
Bake at 200°C for 25 minutes.
And don't forget to grade the recipe:
Enjoy our
recipes!
Running out of inspiration ? Let yourself be tempted by our delicious recipes based on butter or cheese. Depending on the number of your guests and the time you have to cook, we suggest you discover our tasty sweet and savoury recipes!
Discover our recipes
Discover our recipes