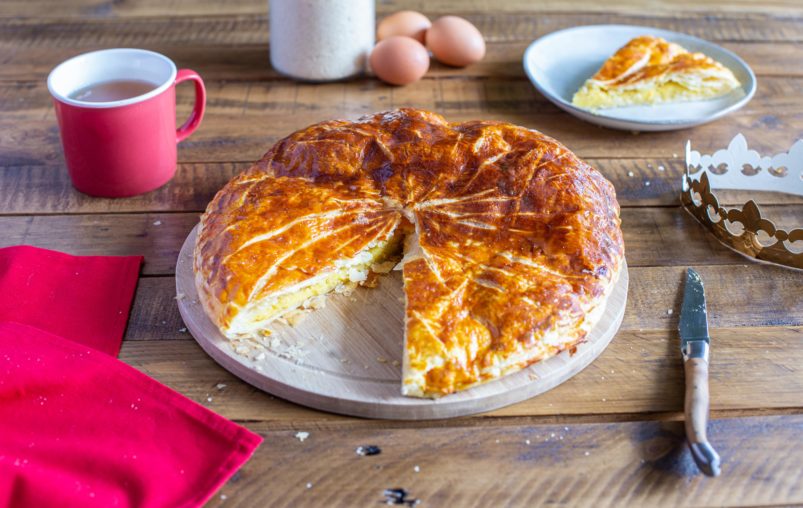 Guests

8 people

Preparation

20 minutes

Cooking

35 minutes

Difficulty

Medium
To make this recipe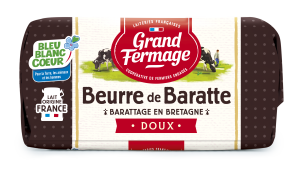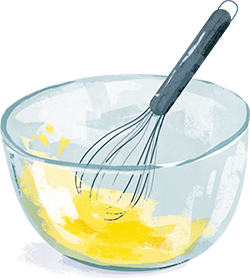 Ingredients
For the galette des rois
2 sheets all-butter puff pastry

1 egg yolk

1 fève (charm)
For the crème pâtissière
120 ml milk

1 egg yolk

15 g sugar

10 g flour

¼ vanilla pod
For the frangipane
120 g ground almonds

90 g sugar

2 eggs

80 g Unsalted churned Grand Fermage butter

1 tbsp. rum (optional)
For the icing glaze (optional)
3 tbsp. icing sugar

3 tbsp. water
And don't forget to grade the recipe:
Preparation
For the crème pâtissière
In a bowl, beat the egg yolk together with the sugar.
Gradually add the flour to the egg and sugar mixture. Mix until a smooth mixture is formed.
Pour the milk into a saucepan with the split ¼ vanilla pod.
Bring to a simmer, remove the vanilla pod, then gradually pour the liquid into the egg yolk, sugar and flour mixture while stirring.
Pour the mixture back into the saucepan and heat for a few moments, just long enough for it to thicken. Leave to cool.
For the frangipane
Cut the butter into small cubes and set aside to soften.
In a bowl, mix together the sugar and softened butter cubes, then add the ground almonds. Rub together by hand.
Add the eggs and the rum. Mix again.
For the galette des rois
Preheat the oven to 180°C.
Mix the crème pâtissière into the frangipane.
Place one sheet of puff pastry in a pie tin or directly onto a baking sheet.
Spread the frangipane cream onto the puff pastry, leaving 2 cm around the edges. Place your fève (charm) into the cream.
Brush the edges with a little water. Cover with the other puff pastry sheet, making sure the edges are firmly stuck together.
Using the edge of a knife, make a small hole in the centre of the galette des rois and make patterns on the top by pressing lightly but not going all the way through. Brush with egg yolk.
Bake for around 35 minutes.
For the icing :
Once baked, you can brush your galette des rois with syrup to give an extra shine. To do this, heat the icing sugar and water in a saucepan until they form a syrup.
Then brush the syrup onto the top of the galette des rois.
And don't forget to grade the recipe:
Enjoy our
recipes!
Running out of inspiration ? Let yourself be tempted by our delicious recipes based on butter or cheese. Depending on the number of your guests and the time you have to cook, we suggest you discover our tasty sweet and savoury recipes!
Discover our recipes
Discover our recipes