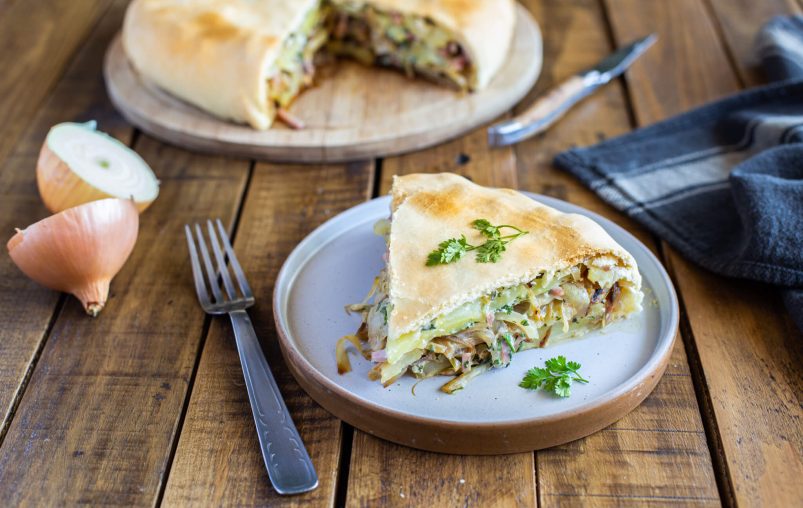 Guests

4 people

Preparation

30 minutes

Cooking

45 minutes

Difficulty

Medium
Ingredients
20g unsalted Moulée de Vendée Grand Fermage butter

150g fresh whipping cream

1 bunch fresh chervil

2 pinches nutmeg

1kg firm potatoes such as Charlotte

4 large white onions

2 tbsp. olive oil

2 rolls shortcrust pastry

Salt

Ground pepper
And don't forget to grade the recipe:
Preparation
Preheat the oven to 200°C.
Peel and rinse the potatoes, then steam them for 10-12 minutes.

Transfer them to a large bowl and allow to cool.
Peel and finely chop the onions.

In a frying pan, brown the onions in pre-heated oil on a medium heat for 8-10 minutes.
Meanwhile, cut the potatoes into slices around 3mm thick.

Prepare the flavoured cream by adding the chopped chervil then seasoning with salt and pepper.
In a buttered dish, darken the first layer of shortcrust pastry by letting it overflow from the dish.
Around the bottom, arrange the first layer of potatoes.
Now add a layer of onions, sprinkle with lardons, then add the first layer of chervil flavoured cream.
Repeat these steps 2 or 3 times according to the size of your dish, finishing with a layer of cream.
Cover the top of the second shortcrust pastry and dampen the sides of the pastry by brushing with a little water.
Make a small hole in the centre of the pastry to act as a ventilation space during cooking.
Cook the tart for 30 minutes.
Serve it piping hot accompanied by mesclun lettuce!
And don't forget to grade the recipe: