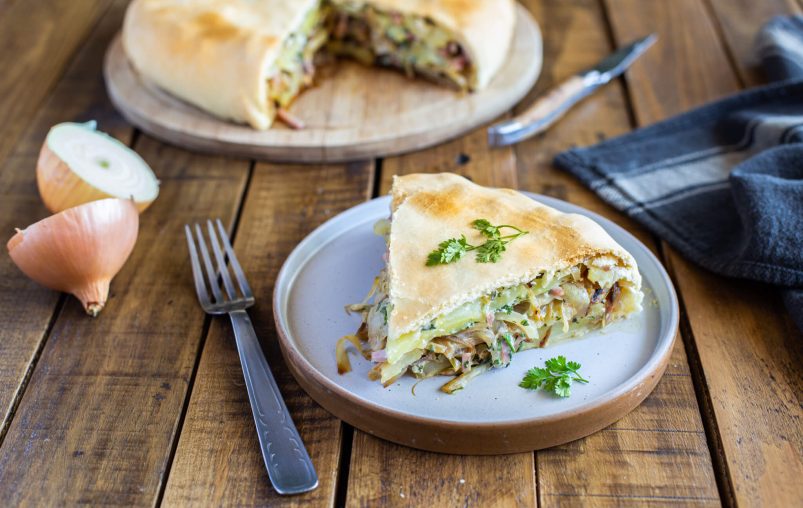 Guests

4 people

Preparation

30 minutes

Cooking

45 minutes

Difficulty

Medium
Ingredients
20g unsalted Moulée de Vendée Grand Fermage butter

150g fresh whipping cream

1 bunch fresh chervil

2 pinches nutmeg

1kg firm potatoes such as Charlotte

4 large white onions

2 tbsp. olive oil

2 rolls shortcrust pastry

Salt

Ground pepper
And don't forget to grade the recipe:
Preparation
Preheat the oven to 200°C.
Peel and rinse the potatoes, then steam them for 10-12 minutes.

Transfer them to a large bowl and allow to cool.
Peel and finely chop the onions.

In a frying pan, brown the onions in pre-heated oil on a medium heat for 8-10 minutes.
Meanwhile, cut the potatoes into slices around 3mm thick.

Prepare the flavoured cream by adding the chopped chervil then seasoning with salt and pepper.
In a buttered dish, darken the first layer of shortcrust pastry by letting it overflow from the dish.
Around the bottom, arrange the first layer of potatoes.
Now add a layer of onions, sprinkle with lardons, then add the first layer of chervil flavoured cream.
Repeat these steps 2 or 3 times according to the size of your dish, finishing with a layer of cream.
Cover the top of the second shortcrust pastry and dampen the sides of the pastry by brushing with a little water.
Make a small hole in the centre of the pastry to act as a ventilation space during cooking.
Cook the tart for 30 minutes.
Serve it piping hot accompanied by mesclun lettuce!
And don't forget to grade the recipe:
Enjoy our
recipes!
Running out of inspiration ? Let yourself be tempted by our delicious recipes based on butter or cheese. Depending on the number of your guests and the time you have to cook, we suggest you discover our tasty sweet and savoury recipes!
Discover our recipes
Discover our recipes