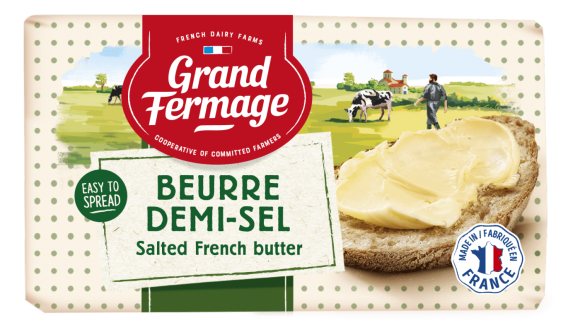 Salted butter 200g
200g
Our Grand Fermage slightly salted butter guarantees an authentic taste with a slight salty touch. This Nizo butter is produced in our Bellevigny factory in France using French milk.
It will delight your taste buds in savoury dishes as well as in desserts and pastries.
Produced close to our breeders...
In our Bellevigny factory in Vendée (85)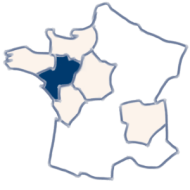 Ingredients
Pasteurised cream (origin: France), salt (1,9%), cultures (including milk).

Nutritional values
Average nutritional values per 100g
| | |
| --- | --- |
| Energy | 2987 kJ / 726 kcal |
| Fat | 80g |
| -of which saturates | 56g |
| Carbohydrates | 0,9g |
| -of which sugars | 0,9g |
| Proteins | 0,7g |
| Salt | 1,9g |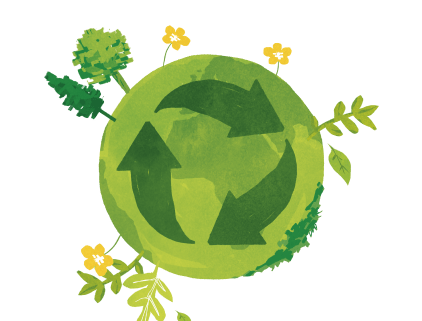 Think about sorting
Disposable paper packaging.
All about our butters
Butter is really the star ingredient of any cookbook! Sauces, cakes… It can be found in numerous recipes.
To make sure everyone's taste is catered for, it comes in three broad categories:
You will of course have noticed that the difference between unsalted butter and salted butter is the salt content.
To start with; what is clarified butter?
It's butter that has first been melted, then had its proteins extracted: casein and whey protein. Its main advantage is that it can stand higher temperatures and therefore won't darken when you melt it in the pan. Practical!
So; here is how to make this famous butter:
 Cut the butter into pieces and melt it in a thick-bottomed pan on a low heat without stirring.
When the butter has completely melted, turn off the heat, and using a skimmer or a spoon, lift off the white mousse which has risen to the surface.
Now tip the yellow liquid which is left into a jar, let it cool and then put it in the fridge.
You will now be able to use this clarified butter in your recipes. It will give all your meals a delicious buttery taste.
Enjoy our
recipes!
Running out of inspiration ? Let yourself be tempted by our delicious recipes based on butter or cheese. Depending on the number of your guests and the time you have to cook, we suggest you discover our tasty sweet and savoury recipes!
Discover our recipes
Discover our recipes