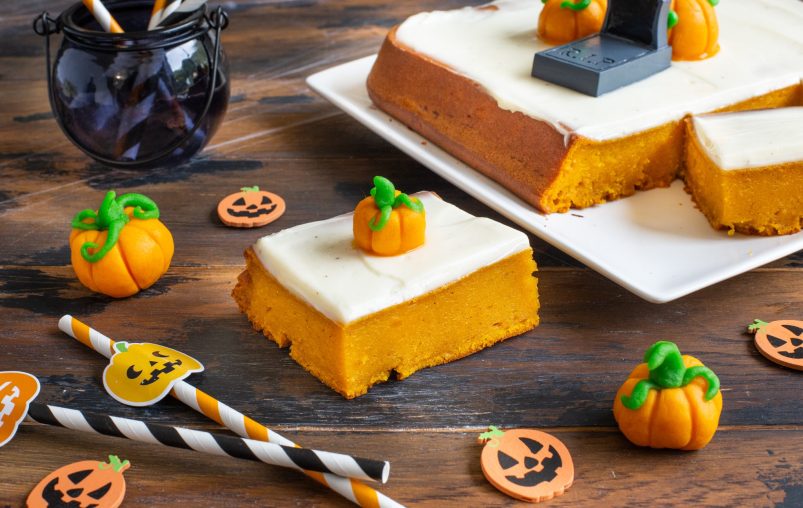 Guests

8 people

Preparation

30 minutes

Cooking

90 minutes

Difficulty

Easy
Ingredients
For the cake
160g salted Grand Fermage butter

860g pumpkin (flesh of 1 medium pumpkin)

4 eggs

260g lightly salted sugar

180g flour

1 sachet baking powder

1 teaspoon powdered cinnamon
For the icing and decoration
200g cream cheese

100g icing sugar

Optional: Orange and green sugar paste

And don't forget to grade the recipe:
Preparation
Method for the cake
Peel the pumpkin and clean out the pulp.
Cut the flesh into large chunks.
Steam for around thirty minutes or cook in boiling water.. The pumpkin is cooked when the flesh is fork-tender.
Leave to cool and puree.
Preheat the oven to 180°C.
In a large bowl, start by whisking the pumpkin puree with the eggs.
Gradually add in the sugar, flour, yeast and cinnamon, stirring continuously.
Melt the butter and add to the mixture.
Mix until a smooth batter has formed.
Pour the batter into a square tin (greased and floured) or a silicone mould.
Bake for 1 hour.
Remove from the oven and leave to cool.
Method for the icing and decoration
Mix the cream cheese and icing sugar in a bowl.
Spread the icing over the warm cake and allow to set in the fridge.
For extra Halloween decoration, you can make little sugar pumpkins to place on top of your cake.
And don't forget to grade the recipe:
Enjoy our
recipes!
Running out of inspiration ? Let yourself be tempted by our delicious recipes based on butter or cheese. Depending on the number of your guests and the time you have to cook, we suggest you discover our tasty sweet and savoury recipes!
Discover our recipes
Discover our recipes