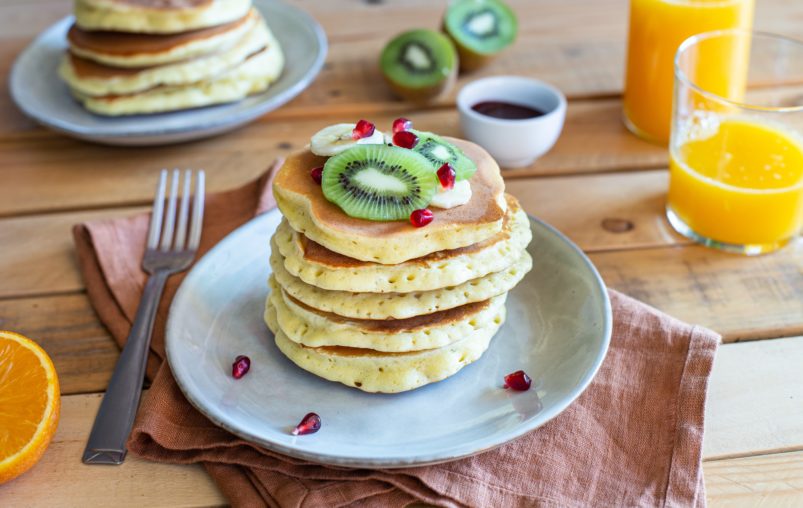 Guests

4 people

Preparation

10 minutes

Cooking

15 minutes

Difficulty

Easy
To make this recipe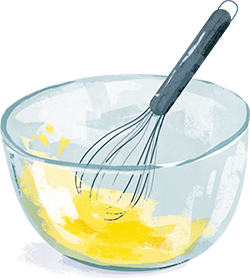 Ingredients
30g unsalted Grand Fermage butter

200g flour

60g sugar

1 sachet baking powder

1 tsp. natural vanilla extract

Pinch of salt

180ml milk

2 eggs

And don't forget to grade the recipe:
Preparation
In a mixing bowl, combine the flour, sugar, salt and baking powder.
In another mixing bowl, whisk together the eggs, milk and vanilla extract.
Add the butter (melted) to the egg mixture, whisking quickly so that the eggs don't start to cook.
Pour the dry mixture into the wet mixture. Mix until combined (but don't overdo it) and you have a fairly smooth batter (it doesn't matter if there are still a few lumps).
Leave your batter to rest for 15 minutes.
Pour 2 tbsp.' worth of dough into the centre of a hot non-stick frying pan. The batter will gradually spread out to form a disc shape. Cook for a few moments on a low heat. When small holes start to appear in the batter, flip your pancake and cook the other side for a few moments.
Repeat until all the batter is used up.
Enjoy your pancakes while they're still warm with fresh fruit, melted chocolate, or even some scrambled egg for a savoury version.
And don't forget to grade the recipe:
Enjoy our
recipes!
Running out of inspiration ? Let yourself be tempted by our delicious recipes based on butter or cheese. Depending on the number of your guests and the time you have to cook, we suggest you discover our tasty sweet and savoury recipes!
Discover our recipes
Discover our recipes