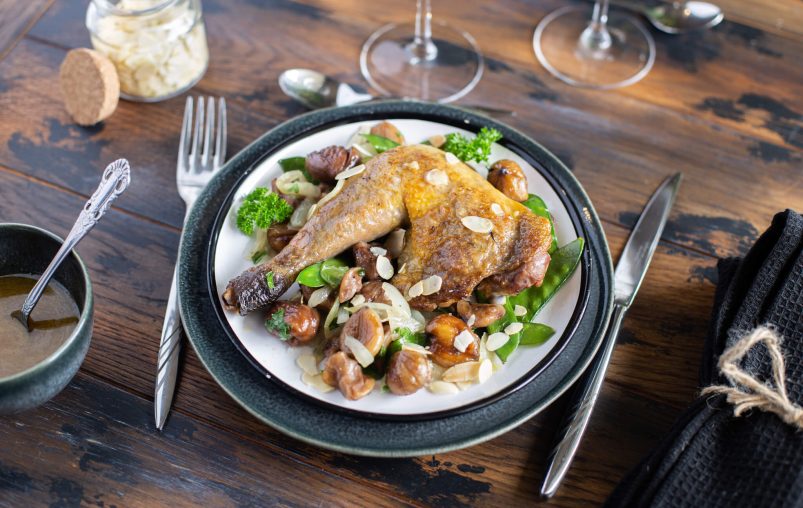 Guests

4 people

Preparation

20 minutes

Cooking

20 minutes

Difficulty

Medium
Ingredients
For guinea fowl supreme
50g salted PDO Charentes-Poitou Grand Fermage butter

4 guinea fowl

50g flaked almonds

½ glass white wine

½ glass water

Salt

Ground pepper

For chestnuts
80g salted PDO Charentes-Poitou Grand Fermage butter

400g vacuum-packed or tinned chestnuts

1 finely chopped onion

100g mange-tout peas

1 soup spoon sugar

½ glass water

1 soup spoon chopped parsley

Salt

Ground pepper
And don't forget to grade the recipe:
Preparation
Season the guinea fowl supremes.
Melt the butter in a pan and sear the supremes, skin side down.
Once the fillets are nicely golden brown, add the ½ glass of white wine and ½ glass of water and leave to gently stew, covered, for around 10 minutes. Set aside.
In a frying pan, melt the butter with the sugar and water.
Add the mange-tout and chopped onion. Leave to stew for 5 minutes then add the chestnuts.

Season.
Stir occasionally to ensure the vegetables are all well covered. The liquid should be nearly all absorbed.

Add the chopped parsley at the last minute.
Serve the guinea fowl supremes on a bed of vegetables.
Grill the sliced almonds and sprinkle them on the plates before serving.
And don't forget to grade the recipe: